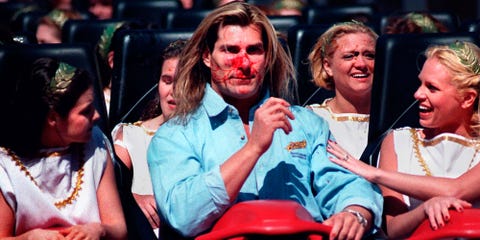 A few days ago, someone reminded me of this absolute gem of a picture and I proceeded to laugh for no less than 5 minutes.
Lets hit the rewind button for a moment, shall we?
In March of 1999, Fabio was a very popular media figure for being, well…strong. Fabio was all the rage, and everyone seemed to love this big, lovable buffoon from Italy.
And, of course, he was very well known for the "I Can't Believe Its Not Butter" commericals.
Well, it turns out that when you book Fabio for an amusement park gig, you may want to keep a first aid kit on hand, because things have the potential to get ugly.
While appearing at an amusement park to debut a new roller coaster, Apollo's Chariot, in Williamsburg, VA, at Busch Gardens, Fabio decided to sit in the front car, and ride the new ride.
What Fabio didn't expect was to get smoked by a goose while he was on the ride. Apparently, nobody let the local geese know that the new ride was officially in service and was certified as a No Fly Zone.
As you can see in the video below, Fabio boards the coaster, straps in and takes off for a fun time. When he gets back, he has blood all over his face.
What is the blood from, you ask? Fabio explained that a goose flew in front of the coaster cart, right as it went down the hill and, well, hit a giant face.
This is not exactly a laughing manner. However, it is a laughing manner, based squarely on the fact that Fabio was known, specifically, for being a large, strong individual, and he still wasn't able to shake the gander of flying beasts.
He took it like a champ, though, and for that, I will award Fabio a Friday applause.